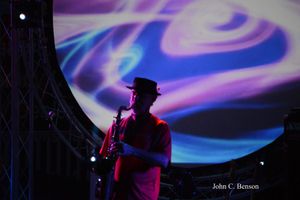 Steve Pickerel
Instrument(s):  Saxophones & Percussion
Location:  Westerville, Ohio
How did you get into Pink Floyd?  When The Wall was released, we all had a copy and play it incessantly.  I naturally moved on to the Dark Side of the Moon album and heard saxophone!!!  That did it for me.
Favorite Pink Floyd song and why?  Shine On You Crazy Diamond.  Not only does it end with the Baritone/Tenor sax solo, but the entire song is a masterpiece in the way it builds.  There is such power in that song.
What equipment do you use? My tenor sax is a Yamaha YTS62 Purple logo with a Morgan, Florida model mouthpiece compliments of Dave at Junkdude music in Columbus, Ohio.  My alto is a Keilworth SX90 with a modified Selmer Soloist D mouthpiece.
Brief musical history:  I've been playing music on and off since I was 7.  I studied saxophone a  Thee Ohio State University and have been playing with various bands my whole life.  I have been very blessed to play with many outstanding musicians and people.
Name of the first band you were in:   Grand Rapid
Best gig and why?  It depends on the day.  I would say Tangier's with DSOTM was very meaningful.  It marked a return after a four year absence and made me realize how much I missed playing the music of Pink Floyd with some high quality musicians in front of bery appreciative fans.  I'm glad to be home.