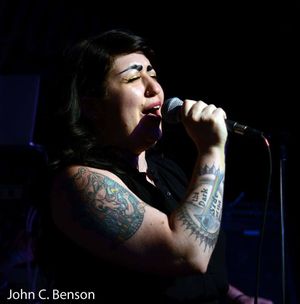 Alexa Pokorny
Instrument(s): Vocals 
Location: Stow, Ohio 
How did you get into Pink Floyd?  I started listening to Pink Floyd in high school. My parents have a lot to do with my musical upbringing. 
What made you join DSOTM?  I had seen DSOTM a few times. I thought they were great but needed a backup singer to fill their sound on certain songs. So, I inquired about auditioning for them and here I am! 
Favorite Pink Floyd song and why?  I'd have to say 'Great Gig in the Sky' is probably my favorite Pink Floyd song. The vocal changes are so smooth and beautiful (and really fun to sing). It's amazing that Clare Torry improvised the entire thing through a handful of takes! 
Favorite Pink Floyd album and why?  Dark Side of the Moon is definitely my favorite. Wish You Were Here is a close second. They both transition so nicely from one song to the next and the songs are really interesting and layered. 
What equipment do you use?  Just my voice! 
Brief musical history:  I started singing when I was little but was too shy to get up in front of people to do it. I was in the children's choir at church for a few years and part of the musicals put on at my high school. 
Name of the first band you were in:  This is the first band I can say I'm actually a part of.  I joined my friends' band, Made Like Trees, on stage a few times to perform a cover of 'Time' by Pink Floyd! If it weren't for that experience I probably wouldn't have gotten up the nerve to audition for this incredible band. 
Best gig and why?  Conneaut Lake Park has been the best so far. We had an excellent sound tech and a great crowd. It was a pretty tight performance.