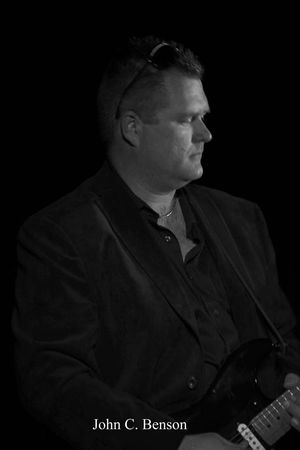 Jeff Tucker
Instrument(s): Lead Guitar & Lead Vocals
Location: Wadsworth, Ohio 
How did you get into Pink Floyd? My dad took me to see Pink Floyd at the Richfield Coliseum for the Delicate Sound of Thunder tour.  I had heard of them but had never actually heard the music.  Wow!  What an introduction.  It is still one of the best concerts that I've ever been to. 
What made you join DSOTM? I hadn't played in a band for years, though I was asked all the time. A former bandmate and friend of mine, who knows that I love Pink Floyd, recommended me to the band, and we just clicked. 
Favorite Pink Floyd song and why? Comfortably Numb – the first solo is so melodic.  I remember when I first learned it.  At the time I didn't have the CD or sheet music.  I figured it out note-for-note from memory.  That's a testament to Gilmour's phrasing.   We usually close out our shows with this song - it's magical.
Favorite Pink Floyd album and why? Dark Side of the Moon – The common thread throughout the album kind of makes it an opus versus just a collection of songs.  
What equipment do you use?  A black American Standard Stratocaster with a custom, loaded-pickguard with the same pickups and electronics as David Gilmour's own Black Strat.  A red American Standard Stratocaster with the EMG DG-20 loaded-pickguard, which is essentially what David played through the 80s and into the 90s.  A Taylor 314 CE acoustic.  An Alvarez nylon string acoustic for High Hopes.  A 1947 Gibson BR-49 slide guitar for Breathe, One of These Days, Great Gig in the Sky and High Hopes.  I just switched to a Fractal Audio Axe FX-III for all of my tones.  It is an amazing piece of gear, which allows me to cover over 50 years of Gilmour's guitar tones.
Brief musical history: I started playing the piano when I was five.  I quit after five years because it wasn't "cool".  That was one of the biggest mistakes of my life.  I picked up the guitar my freshman year of high school, and haven't put it down.   I played in a few cover bands over the years.  I even fooled around a little with some solo and duo acoustic shows, but I was basically a "professional basement guitarist".  When this opportunity presented itself, I jumped at the chance.  I've also had the opportunity to play as a hired gun in some other tribute bands (Elton John, Billy Joel, Rascal Flatts, etc.).
Name of the first band you were in: Young Blood, we played 80 and 90s covers back in high school.
Best gig and why? Alchemy Rising (Music & Arts Festival) – what a diverse group of people.  The crowd was so full of energy, AA Sound & Lighting did a fantastic job with sound production and complementing our light show, the promoter Jim Garibaldi did a wonderful job.  We met so many really great people.  I look forward to doing it again.